Hey! Look what I've just gotten for the first time: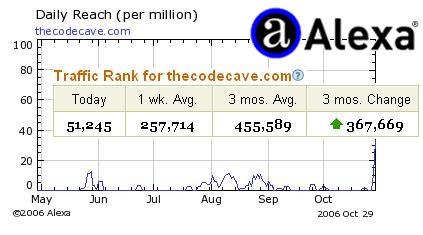 I finally got myself an Alexa chart on Sunday! That means I've grown to be one of the top 100,000 sites on the web! Well, for Sunday at least. I'm not sure how long it will last. But considering there are now more than (put your pinky to your mouth when you say this) 100 Million websites out there, I'm glad for my little piece of the pie.
So here's the big image for posterity's sake:
http://www.thecodecave.com/images/dailyreach2.png
Cool!
Hey – My site is woefully low on reviews. One of the ways that I've given as how to say a quick "Thanks" is to write a review for me on Alexa/Amazon. So, if I've helped you out, please consider writing a quick review under your amazon account here.
Cheers all!