Allow me to introduce you to the Earl Family: Toby, Yvette, Brittany, and Michael. (Toby was not available for this photo.)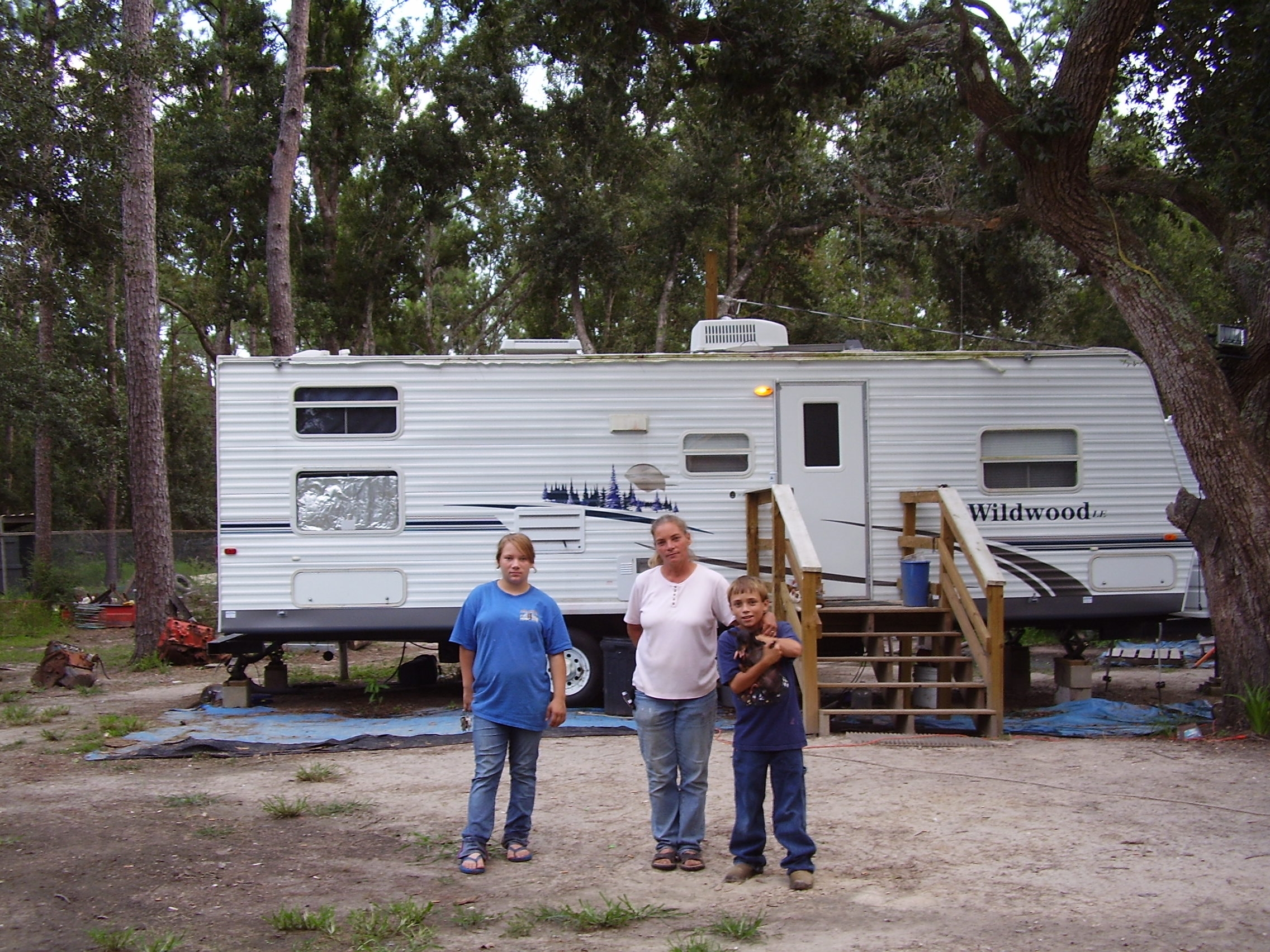 Nearly a year and a half ago, they lost their home when Hurricane Katrina hit the small town of Pearlington, MS. That trailer is where they've been living of late. That's about to change.
For a couple years now, my wife and I (I mostly helped by providing tech support and online resources) have been working to help the residents of Pearlington, MS through her blog, and her Purls of Hope website. She's been doing this to support the Pearlington Project Katrina Foundation, which was started by Angela Cole, shortly after Katrina hit. I've referred you to that site before; referencing some of the roadblocks faced by those that only one to help people in need.
For this project, I'm taking my help a step further because the need is great.

My wife's connection is to Knitters. My crowd is the tech crowd and the bloggers. So that's who I am reaching out to. Maybe if I can get enough people linking back here, we can get the ball rolling and really make a difference. So, I'm starting something called "Bloggers Build a House"
Let me start by telling you a little about who we'll be helping.
The Earls are among those doing their part down in Mississippi to help their neighbors, despite losses of their own. They survived Hurricane Katrina, but as floodwaters reached their attic, they lost their home and everything in it. In spite of their own losses, they still reached-out to help their neighbors in any way they could. At one point in those first few months after Katrina, they had over 20 people camping on their property – people who had nowhere else to go.
They provided a Thanksgiving meal last year for all they could feed. This was their family dining room at the time: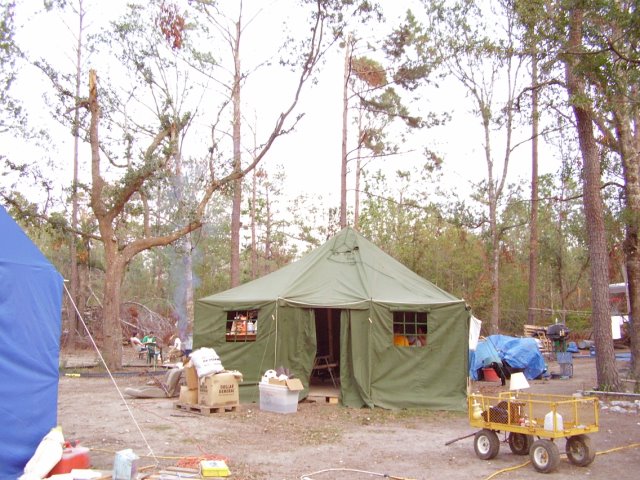 Yvette is a great cook and worked at a little local restaurant on Main Street in Pearlington. However, it, too, was washed away in the storm. She has spent the last year caring-for her family and her Katrina widowed, elderly father. So, she saw providing a Thanksgiving meal as just another way she could help.
Their daughter Brittany is 12 years old and this has been a tough year for her.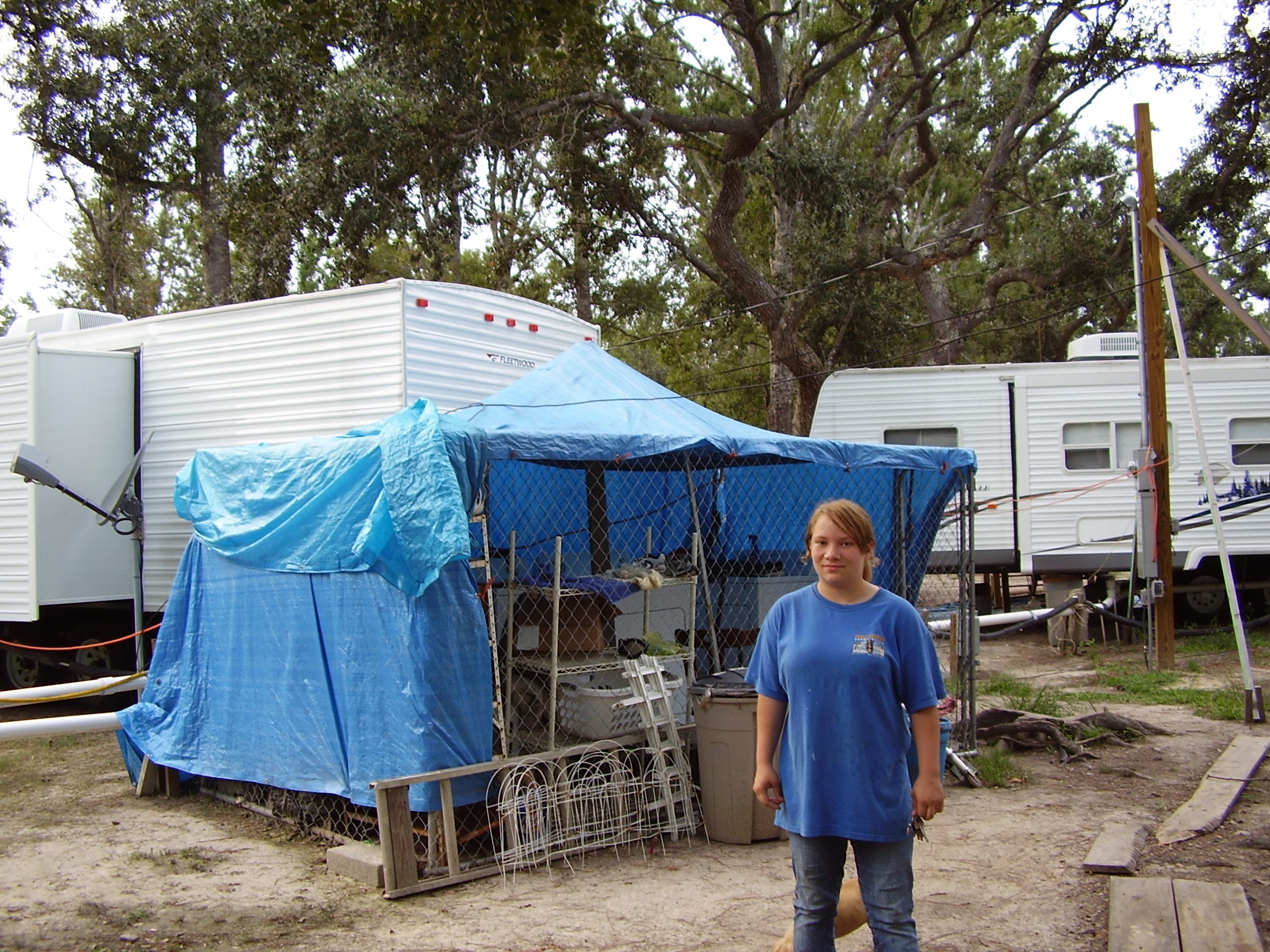 Her grandmother (Yvette's mother) never recovered from the shock of the storm and died this past year. Brittany loves animals and wants to be a vet one day. She lost most of her animals in the storm, but has taken-in many "Katrina stray" dogs and cats.
The father of the family, Toby, was a fisherman prior to Katrina. He lost his big boat in the storm – it's still lodged in the tree where Katrina blew it. Yet, never one to quit, Toby salvaged a little flat boat and goes out into the bay fishing for crabs every day the weather allows. This is him and his family around the dinner table:
<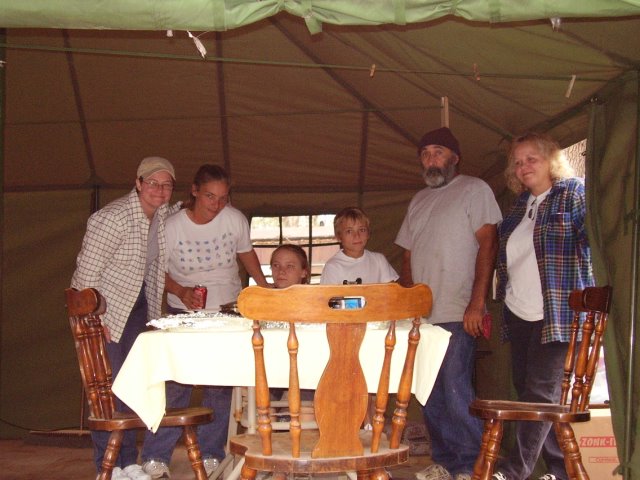 Angela Cole and a friend are on the left. But you can see Toby there and the little man beside him is Michael.
Michael is 9 years old and loves the outdoors. He often goes fishing with his dad. Michael also loves sports and wants to play football some day. It's hard for the kids to participate in sports because the kids from Pearlington are still bused an hour each way to school. So, they can't stay after school and participate in activities like other kids; they have to catch the bus and get back to Pearlington.
There's no question this disaster has hit children and the elderly the hardest. The kids wonder if they'll ever have a home again and are more anxious than they were prior to Katrina. Getting these children "back home" is the first step to restoring stability to their lives. The FEMA trailers which are home to many families, like the Earl family, are going to be removed at the end of February.
FEMA has already notified them they ARE coming for the trailer.
Now, I'll agree that Pearlington is in the south and returning to tent living, in February, in Mississippi, is admittedly not be the same as living in a tent in the Cuyahoga Valley, or the Laurel Highlands. Up here we still would be looking forward to a couple snow storms bringing in a foot or two of snow each. Even though the Earls won't face that, it is still the middle of winter and will get cold at night. It is not going to be easy for this family of four. They need a home now!
The Pearlington Project Katrina Foundation has a plan. They have volunteer builders lined up for an organized Building Blitz to take place in Pearlington during the first week of February. They will be building homes for four families. These are the forgotten of the forgotten victims of Katrina.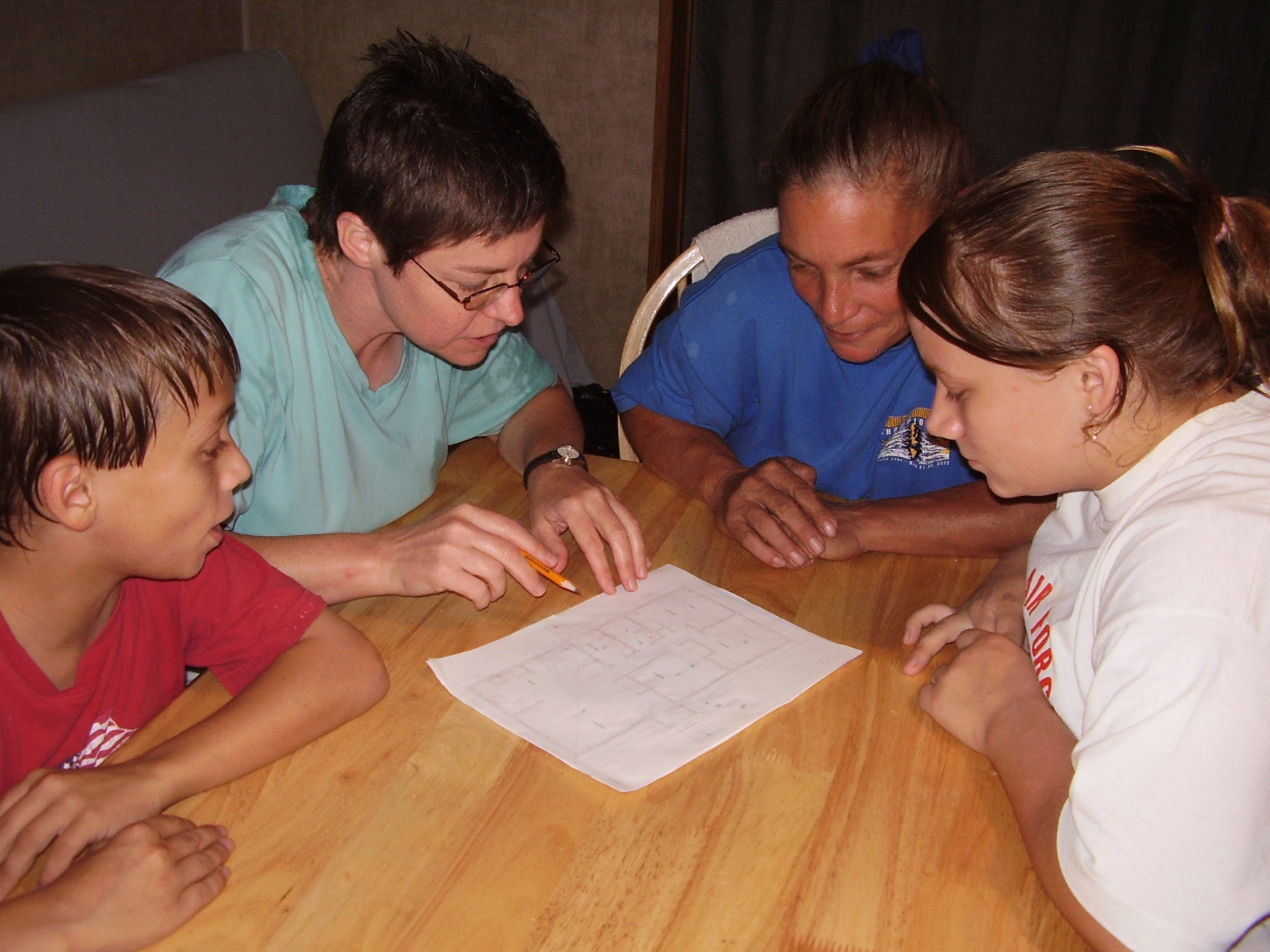 Many have already helped the residents of the town of Pearlington by sending care kits through Purls of Hope. CNN did a story on Angela Cole when she was there delivering the kits from Purls of Hope, and other donations she'd received. The Earl family and the other families in Pearlington are counting on all of us for one last push.
I'm asking my readers to help get bloggers to come together and help build the Earls a new home. This post is just the start of the campaign. If I can get people intersted, and it seems like this can take off, I'll devote an entire site to the Bloggers Build a House concept and maybe, just maybe, we can help a second family.
If you are at all interested in helping, please begin by going to the Pearlington Project Katrina Foundation website. Read their stories, read about their struggles. View the multiple clips of coverage by CNN that has chronicled the struggles of this small town over the last year and a half.
Then please donate what you can toward the building fund. Your donation is tax deductible.
The first step will be to focus on helping the Earl family rebuild their home, through our blogs. It will take $45,000 to build them a modest home. Here is a picture of the location where it will be built.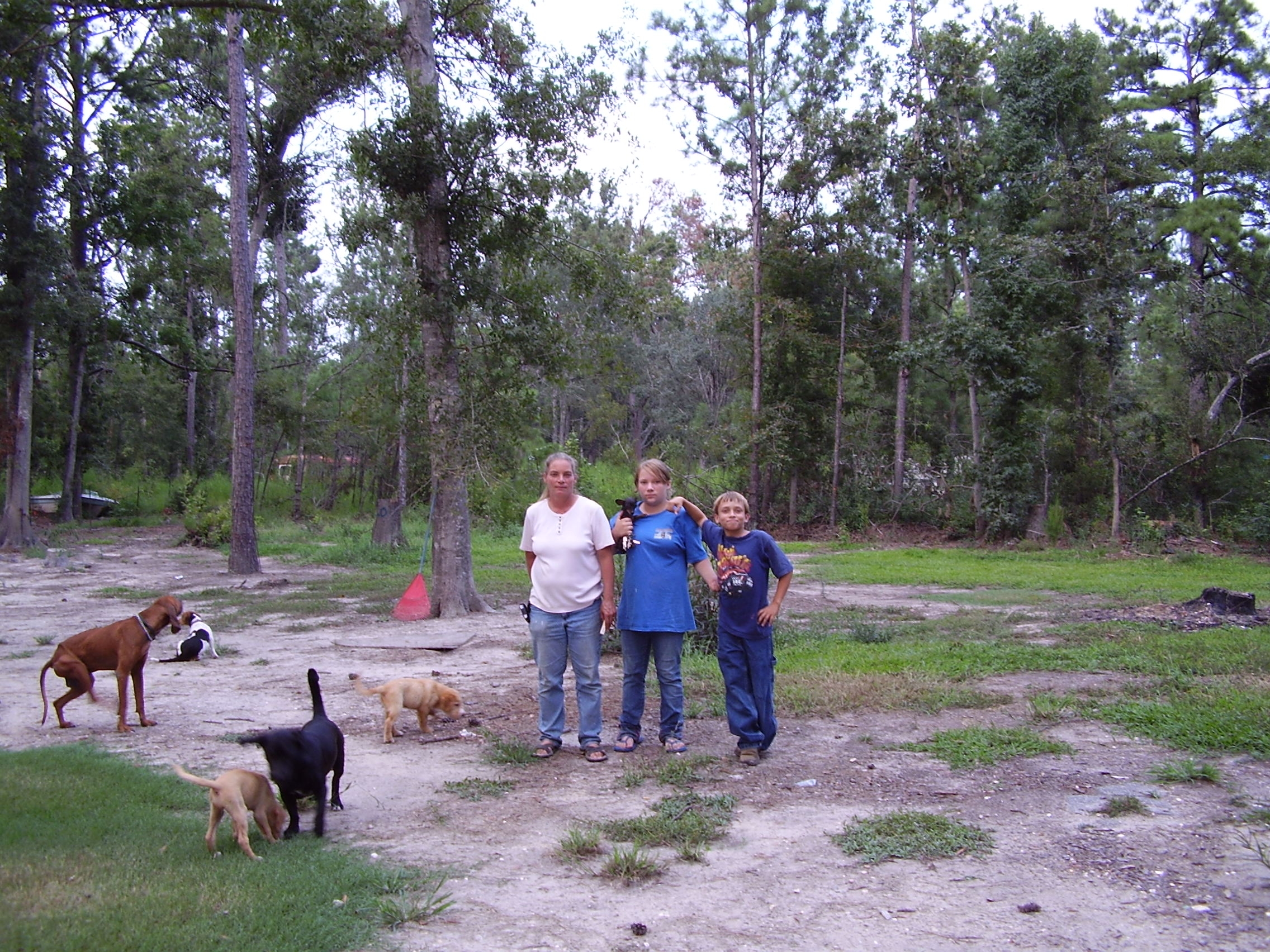 Please join with us in getting the Earl family back home!
We also need your help spreading the word.
I've purchased a new url www.BloggersBuildAHouse.org that should be ready tommorow. At that point, I'll come up with buttons and other things you can put on your website. There will be other ways to help then too…
Until then, if you have a blog, please, at minimum, put a link to this post http://www.thecodecave.com/Build-A-House on your site. Or link directly to The Pearlington Project Katrina Foundation website: http://www.pearlingtonproject.org.
Here is a button you can use for the foundation's website: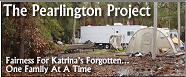 So, if you can't give, PLEASE still help by spreading the word. As soon as the new site is up and running, the url to this post http://www.thecodecave.com/Build-A-House will take you directly to the new site. You won't even need to change anything on your site.
If you have an organization, house of faith, company or coop, consider asking them to help contribute to this effort! I would love to get an email from those of you who make a donation through our efforts, I'll be keeping a tally of how much is donated through the BloggersBuildAHouse.org outreach. We'll also be rewarding those who have helped out, with a link or a post, a reciprocal link back to their site if they desire. So please email me Brian@thecodecave.com and let me know, or post a comment on this post.
In all the hub-bub about New Orleans, news of the devastation in Mississippi may be new to you, but it was right in the hurricanes path.


If you're like me, you always want to learn as much as you can about what you are doing. Click on the image above, and you will be taken to a wikipedia article describing the effect of the hurricane on Mississippi.
This image shows the county and towns along the coastline and you can see Pearlington there on the left hand side of Hancock county.


Take a moment and look at that map and remember how the flood waters reached the attic of the Earl's house. Incredible… but sadly true.
Please lend a hand in keeping at least one family out of tents this winter… Thank you!
(BTW, this is one time modesty is not beneficial. If you donate, shout it out! let us know, and help spread the joy it brings. It will only help us achieve the goal. And besides, you'll deserve the pat on the back…)