Congratulations to Cindy Moore!
She's the winner of my First-Blog-I-Wander-Into-that-Has-Me-in-Their-Blogroll unannounced contest! Cindy has her blog over at the Digital Ramble.
She wins a large Café Voltaire from my local coffee Arabica Coffee House, or equal funds towards an other beverage that might be more to her tastes ;).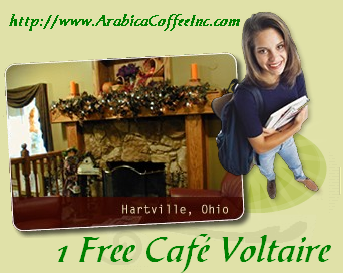 Congratulations Cindy!
Now go check your paypal account! 😉
(And btw that's not her in the picture – at least the chances are pretty slim – lol)

I happen to really like her blog. It seems that she's on a similar mission to mine. And that is (basicaly) to spread the knowledge that she found beneficial and toss in a little about herself along the way. She's a computer programmer, though not in Delphi, near as I can tell (I guess no one's perfect.) She's got at least one WP plugin posted, the Favicon Manager WordPress. This plugin provides an easy way to get ANY image associated with your website to be your FavIcon. It also associates your icon with your feeds – a nice feature.
We both post our reading libraries too, but mine are slanted decidedly more to the fictional side of the scale. Heck, she even uses GAIM. But I warn you, if you thought my posts got to be long winded… you should be prepared. Digital Ramble is right! 😉 All in all, Digital Ramble is a good tech blog with some helpful hints, tips and tools.
Go check it out, it's well worth the read!