Game Review: Super Gerball by Binary Sun
or "You had me at 'Smeg'" Part 1
This is the second of two reviews that are part of the Binary Moon's Free Games for Bloggers promotion. More reviews are likely to follow.

Super Gerball game is a sure winner!

Now, I do find it funny that every one 6 and older that played this game, including my wife and myself, looked at it and said "Oh, it's like Best Friends". Best Friends is a big hit in this house with the 2 and 4 year olds. The 2 year old doesn't quite have the skills to play it but he still enjoys the birds being knocked off of the tracks into space and he wanders around.
It turns out that these games share a lot of the same behind the scenes technology. Don't be mislead by that statement. Though Ben, of Binary Sun, and Mike, of Retro64 have colaborated on some projects one of Ben's other work places, www.MiniClip.com, these are two VERY different games.
While we've had the trial version of Best Friends for months without purchasing, this could not have been the case for Super Gerball! As I said my two youngest kids loved Best Friends, as did the older kids at one time. However, I very quickly grew tired of it. That won't be the case with Super Gerball, which takes a whole new approach.
Part of the fun of Super Gerball is that we right now have an escape artist Dwarf Hamster.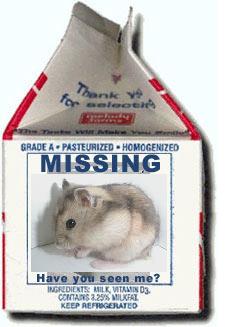 Just when I started to review Super Gerball, Streaky, one of our hamsters, had been recovered from her last escape act and had been wandering around the house for two days. And that, my friends, pretty much sums up Super Gerball. Super Gerball is about a Gerbil that is wandering all around the house in its little rolling ball.
No for the record, Gerbils have tails

and Dwarf Hamsters don't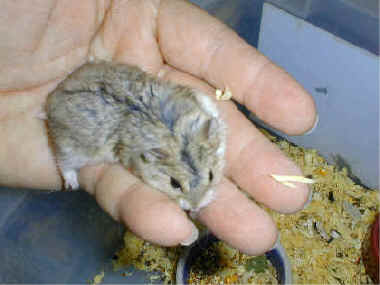 .
So, I'm pretty sure this should be Super Dwarf Hamster Ball, but that's hardly as catching of a name, now is it?



Any Question?

Ok, we'll let that go for now. 🙂 What makes this game so unique is that it is the world & platforms that are rotating so instead of you just guiding the hamster around, you are rolling the hamster like a marble in one of those old wooden marble maze games. It's neat to see the whole world tilting that way.
While the beginner levels are easy enough for my two year old to complete them, they are also big enough that I've tried a couple times to collect all of the gems but run out of time. (Practice will make perfect).
The medium levels are where the fun really starts for the 8 & up crowd. First, there is a Red Dwarf reference as the Gerbil tries to find its way through the kitchen. That alone made the game a winner. "You had me at Smeg". Though what such language is doing in a kids game, I have no idea…. 😉 So, this difficulty setting adds self tilting islands (for lack of a better term), spinning obstacles, moving ground and a couple other terrains that affect the physics of the hamster. It was enough to give my wife quite a challenge in the game and to get the kids sucked in so far that I never got more than two brief moments at the controls. I did however get beat by the very end second level the first time I played it. So I want to go back and play some more.
This game is a MUST have and is truely worth the price asked.
Since my 10 year old son has asked me over 15 times in the last two days if I've written this review, I need to sign of and leave my recommendations for Part 2.
But I'll leave you with the comments of my two year old.
This is him as we forced him to let his sister have a turn…
Gain! I play again!
This was his reaction after he got another long turn and it was time for everyone to head to bed:I try again nnnnn!!!
The next 15 minutes were repeats of the first two slowing dying down to a numb:
aaaiiinnnnnnnnnnnnnnnnnnnnnnnnnnnnnnnnnnnnnnnnnn
I think he liked it!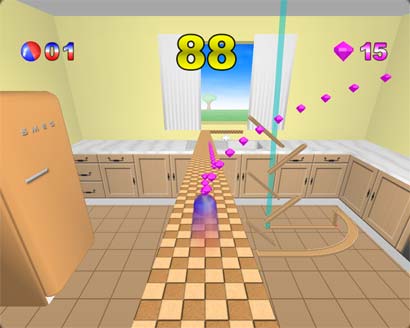 Things I like:
I like the fun concept
I like the tilting of the platforms – that's unique
I like the attention to detail – for instance on the easy levels, all of the obstacles you guide your Gerbil around have round corners. That means that the little ones can be a little imprecise in how they guide the ball around.
The art style is very nice
Things I would change:
Recommend, some how, that older players play at the medium level first so that they don't dismiss the game after just playing the medium level. Maybe level shots in the menu?
In all of the character based games I've played from Binary Sun, you spend the whole time staring a the back of the character. At least at the end of the rounds in this one you see the Gerbil's face. It would be nice if you could see the Gerbil a little better and watch him run around in the ball. With being zoomed out this far you pretty much miss that entire effect. It becomes just a ball not a Gerbil in a ball.
That's not a very long list. Why? Because everything else I want to I'm gonna be able to do in the level editor that comes with the full version of the game. That means I'll be making an additional level pack for my two year old VERY soon.
Here's a feature list of the full game:

• 60 levels – 60
fun
,
exciting
levels provide a long-lasting challenge.
Each level has been designed to offer something
new
, with no two levels alike –
ensuring a
fresh experience
from start to finish.
• 6 game zones – Super Gerball provides you with the ultimate in graphical variety
– there are no less than 6 game zones in the game,
starting off in the garden and moving onto the garage, kitchen, bedroom, bathroom and attic.
• 3 difficulty settings – easy, medium and hard modes make the game accessible
to everyone and also provide lasting challenge.
Start the game off in easy mode, and then as you get better try mastering the medium and hard modes!
• 3 unique endings – complete the game in easy,
medium or hard mode and you will be rewarded with an entertaining end sequence –
completely unique to that mode! Do your best to see all 3 endings!
• 3 high score tables – compete against friends and family to see who is the best Super Gerball player of them all.
Can you reach No. 1 in all 3 tables?
• Freeplay mode – play any level in any order and try and beat your best score for that level.
Import additional level paks for endless fun! (Note: shareware version allows you to import 2 level paks,
the full version can import an unlimited number.)
Level Editor

(included with full version of Super Gerball)

Level editor features:
• Easy to use – normally, 3D level editors can be horribly complex to use – but not Super Gerball's editor (SGB Ed).
SGB Ed has been designed to be useable by anyone whether they've used a 3D editor before or not.
• Powerful – Super Gerball's editor lets you do everything that can be done in the game –
so you can create levels just as simple or as complex as you want.
• Complete and thorough documentation – the documentation for SGB Ed explains everything about the editor, so you should never get stuck.
• Support and community – already there is a community of Super Gerball full version owners who are creating their own levels.
Get the full version and join this creative community!
Yet to Come: A gratuitous review: Binary Sun's SETH's Puzzles